BACK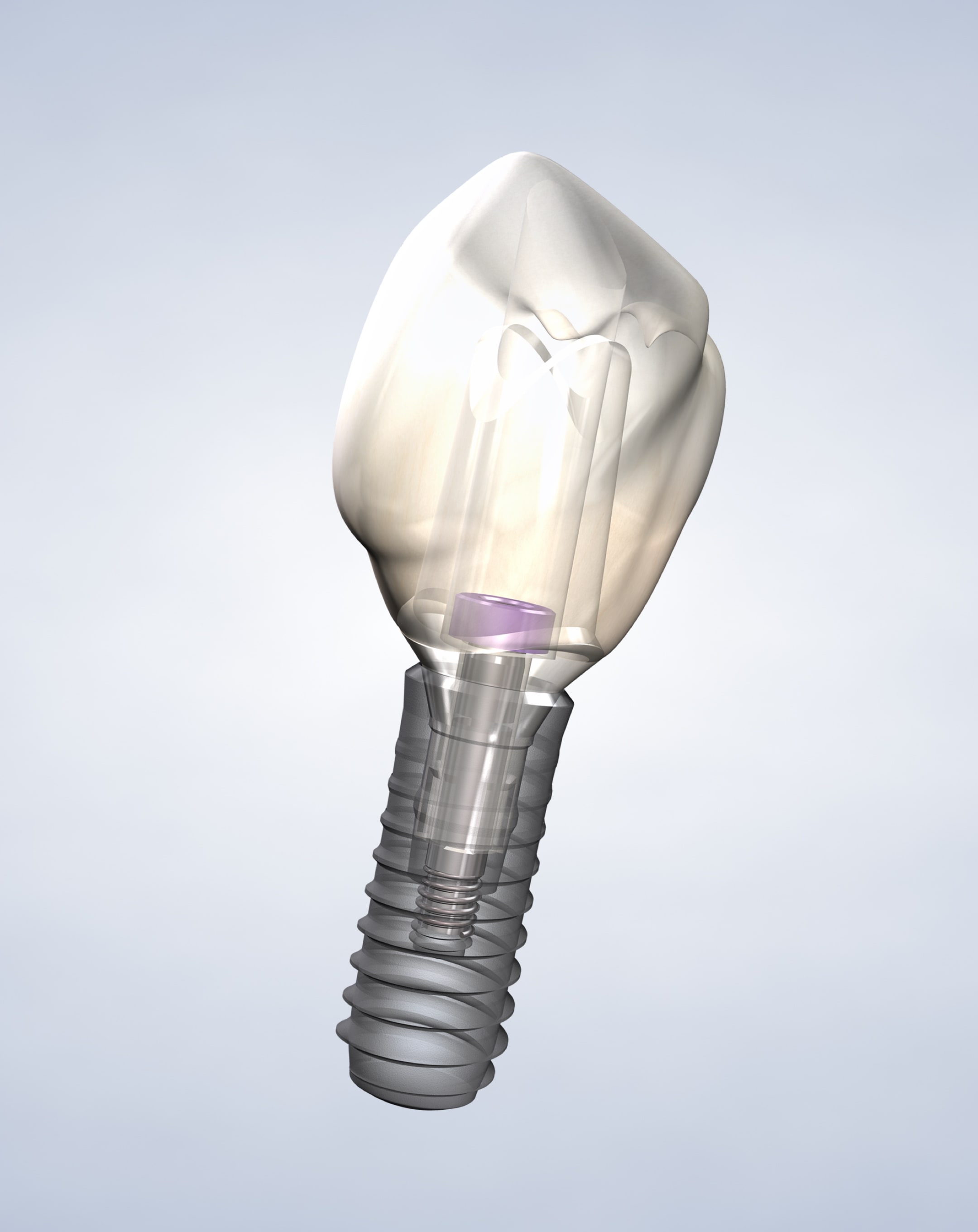 Dental Implants
Restore Your Smile
A dental implant is a tooth replacement option that can be used to replace one or more missing teeth. It is taken care of with regular brushing and flossing and can bring confidence back to your smile. Dental implants are versatile and can be used to replace one or more missing teeth, even molars. If there is not enough bone to support a dental implant, a bone graft may be placed to help new bone grow before the post is inserted.
Biggest Benefits of Dental Implants
Improved Speaking and Eating. Unlike ill-fitting dentures, dental implants stay in place and make it easier to speak and eat properly.
Improved Appearance and Self-Esteem. With a complete smile, you can feel like you again and regain your confidence.
Convenience and Easy Care. You never have to worry about your dental implant. Once it's in, that's it. Simply brush and floss it like a natural tooth.
Durability. Its titanium post makes a dental implant very strong. They can even replace molars. With proper care, a dental implant can last a lifetime.
What Factors Into the Cost of a Dental Implant?
For the most accurate estimate of the cost of your dental implant treatment, we recommend a consultation with one of our oral surgeons. Factors that go into dental implant treatment that can affect cost include the number of implants you will be receiving and if you will need a bone grafting procedure or an extraction to prepare for your implant placement.
The long-term value of dental implants is undeniable: replacement teeth that allow you to regain the ability to eat the foods you love, appear natural when you talk and smile, and maintain the health of your jaw bone are truly priceless. When you also consider the fact that implants can last decades with proper oral care, the difference is clear between implants and less expensive tooth restorations that must be replaced periodically. Some of the economic and personal benefits enjoyed by implant patients include the following:
A lifelong tooth replacement. Bridges and dentures must be replaced after a few years, but dental implants do not require replacement. With proper oral hygiene and regular dental checkups, dental implants can last a lifetime.
Better oral health. Dental implants fuse with the jaw bone in a process called osseointegration. This process gives dental implants the benefit of stimulating the jaw bone like natural tooth roots, helping to protect your jaw from bone loss that can occur from missing teeth.
Improved quality of life. When patients choose dental implants to restore their missing teeth, they regain the ability to eat the foods they love as well as speak, eat, and smile with confidence because they know their replacement teeth are secure and natural-looking.
Dental implants are a cost-effective and healthy way to rehabilitate your oral function and your confident smile. If are interested in learning more about dental implants for damaged or missing teeth, please give The Oral Surgery & Dental Implant Specialists a call.
3D Impressions
We use 3D intraoral scanners to create digital impressions of your teeth. This eliminates the need for traditional molds and allows your surgeon to create the entire treatment plan virtually.

The Dental Implant Procedure
During your consultation appointment, you will meet with either Dr. Koshgerian or Dr. Shelton, who are both board-certified oral surgeons. They will discuss your surgical goals and design a treatment plan to achieve them. If you're concerned about pain or experience surgical anxiety, there are many anesthesia options to choose from. EXPAREL® is also an option, which is a non-opioid alternative to post-surgical pain management. Oral surgeons are specially trained to safely administer all forms of anesthesia and sedation.
Once the anesthesia has been administered, your surgeon will make a small incision in the gum and place the implant post. Over time, the jaw bone will fuse with the post. When the post and bone have bonded, a connecting abutment is attached. Your restorative dentist will attach the custom-made crown to the abutment, and your dental implant is complete. Any questions you have during recovery can be answered in our post-operative instructions or by calling us at (619) 287-5000.
Types of Anesthesia
The right anesthesia will depend on the complexity of your procedure and your level of anxiety.
Hear From Dental Implant Patients
These patients can tell you about the firsthand experience undergoing dental implant treatment at our office.
Reviews From Our Dental Implant Patients
"Hi, my name is Kevin. I'm from Coronado. I came to The Oral Surgery Specialists of San Diego to get an extraction and an implant. My overall experience at The Oral Surgery Specialists of San Diego was exceptional from beginning to end. The atmosphere here is very welcoming. The doctors and staff are wonderful people. I enjoyed meeting them all. The doctors helped by explaining the procedure thoroughly and going through [it] with me in detail so I understood exactly what would happen. Rating The Oral Surgery Specialists of San Diego on five stars, I'd give them five stars every time."
"Hi, my name is Terry, I'm from Lakeside, and I came to see Dr. Koshgerian for a dental implant. When I walked into the practice, I was greeted promptly. They have a great staff. They're very competent. Dr. Koshgerian was so kind and calm. After the surgery, he called me in the evening just to see how I was doing. So, the surgery went really well. I would definitely go back again. From the moment you step through the door, it's actually a good experience. I highly recommend The Oral Surgery & Dental Implant Specialists of San Diego."
If you have questions, would like to learn more about a procedure, or wish to schedule an appointment, give us a call. Our board-certified surgeons and attentive team are here to help.